Some of the world's best tourist attractions
A top ten list of anything is always bound to cause a stir as nobody's going to agree on everything. This is definitely true when it comes to a top ten of the world's greatest attractions as there's just so many to choose from. Maybe you'll agree, maybe you'll disagree with these top ten. Whatever the case, one thing's certain, if you see any of these sights, you're sure of some fond memories.
The Northern Lights
Nature's handy work is hard to beat when it comes to top attractions in the world. The northern lights, or aurora borealis, has to be one of the most wonderful sights you could ever wish to see. Dancing lights of green and pink swirling round like ethereal silk in the night sky above. This natural wonder is best seen way up in the Arctic Circle at the top of Scandinavia. Although it has been seen down in Scotland, and even right the way down in England on occasion, generally the farther north the better. Tromso, right up at the top of Norway, is a great spot from which to see this natural wonder. Iceland may be even better.
The Grand Canyon
Stand before this mesmerizingly huge Grand Canyon and be totally blown away with just how big it really is. Way down at the bottom you'll see the mighty Colorado River winding its way this way and that. Just gazing into this immense cavity in the surface of the earth may be as much as you want to experience from this natural attraction, but if you want to experience it in a much more intimate way, take a horse ride down into it, or you could even hike. Maybe you'll take out a boat on the river down below and float on the clear waters. One of the most unforgettable ways to see this natural wonder is by helicopter.
New York
New York is hard to beat for the frenetic excitement that goes hand in hand with city life and many people want to visit the Big Apple at least once. Catch a NY yellow cab and see the dazzling lights of Broadway, the Statue of Liberty, the Empire State Building, or take a walk in Central Park. There's an endless list of things to see in the world's financial capital. For those with a thirst for knowledge, visit the Natural History Museum and walk amidst gigantic dinosaurs (at least their skeletons), or even jet off into the far reaches of space by means of the planetarium in one of the world's most advanced space theaters. The showing is that impressive you'll feel you've left the earth long behind.
The Pyramids
No list of top world attractions could be complete without mention of the mysterious Pyramids of Giza. If you have opportunity to enter inside one of these magnificent structures, then do so. Inside, you will really feel yourself stepping back into ancient history. The slightly claustrophobic chambers and corridors contrast starkly with the grand dimensions of their exteriors. Were they built as great monuments to the stars, or burial chambers, or both? No one is entirely sure. Maybe you'll have some other ideas as you stand and gaze at these wonders of the ancient world. If you can cope with the confined spaces inside, you're bound to come away with a deeper appreciation for these enigmatic and mysterious edifices.
Norway's Fjords
The fjords of Norway have been voted several times as one of the world's top attractions. You'll no doubt see why as soon as you see them. These grandiose and majestic towers of granite jut out from deep still waters all up the coast of western Norway and offer one jaw dropping view after another. Pulpit Rock, which rises 600 meters above the Lysefjord, offers some of the most staggering views you'll ever see anywhere on earth. Then there is Geirangerfjord and Naeroyfjord (the narrow fjord), with its spectacularly high cliffs and waterfalls that cascade from dizzying heights taller than cathedral towers.
Petra
One of the most incredible cities you could ever wish to visit, Petra was carved out of sheer red cliffs by the Nabataeans over 2,000 years ago, and now ranks as one of the Seven Wonders of the World. The backdrop for many cinematic productions such as Indiana Jones and The Last Crusade, the city is instantly recognizable. Petra was in fact hidden for centuries, except to Bedouin tribes, until it was rediscovered in 1812 by a Swedish explorer John Louis Burckhardt after which it soon began to attract visitors. Although this wonder of the world attracts swarms of people each year, the size of the ancient site is more than big enough to absorb the numbers and retains that feeling of aloofness and mystery.
Las Vegas
Love it or hate it, Las Vegas is one of the world's most iconic and most visited cities, and gained a new influx of visitors thanks to 2009's The Hangover. The strip really comes to life at night and hotels such as Caesar's Palace, the Bellagio with its world famous choreographed fountains, or the Stratosphere with its restaurant and cocktail bar right at the top of the tower rotating like a flying saucer, are well worth a visit. The views across the city from the top of the Stratosphere are fantastic, particularly at night. If you're feeling really brave, try the thrill rides such as the Sky Jump, the Big Shot, and the aptly named Insanity. You won't get bored in this world famous attraction.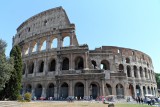 Rome
The Eternal City is a treasure trove of historical gems far too numerous to mention here. Whatever you have time to visit in Rome, be sure to visit the Colosseum which would once have resounded to the cries of 55,000 spectators. Take a few snaps at the 18th century Trevi Fountain, or wander around St. Peter's Square and, of course, the Vatican. There are so many things to see in Rome that you'll need a week to explore.
Paris
As far as city destinations go, Paris is up there with the best. The City of Light is home to the world famous Louvre, the Cathedral of Notre Dame, and the iconic Eiffel Tower. Head to the 11th century Saint Germain des Pres, the oldest part of the city for a slice of authentic Parisian charm.
Thailand
Thailand is undoubtedly a beautiful destination with its perfect blend of tradition and tourism. Magnificent tropical beaches, picturesque islands, and clear turquoise waters, all offer a vital mix of everything a visitor could want to see. Add to that mix the exquisite cuisine and it's easy to see why so many come back time and again to this tropical and exotic paradise of South East Asia.
No doubt, there's plenty more you'd like to add to the list. Venice, the Great Barrier Reef, Niagara Falls, Monument Valley, the Taj Mahal, to name but a few. Whatever your top ten would be, one thing is certain, there's plenty out there in the big wide world to cater for everyone.