World famous ski resorts
Skiing is an activity that people all over the world enjoy, and one that many become passionate about. Skiing enthusiasts even travel to different countries in order to enjoy skiing, spending thousands on the activity. Skiing is a great way to enjoy winter and the get out in the snow. Even people who do not like snow find themselves enjoying the activity of skiing and snowboarding on hospitable resorts. Skiing can be challenging at first, but it is enjoyable and exciting once you get the hang of it. There are ski resorts all over the world that try to promote the best skiing experience for both beginners and experts. Ski resorts try to mold the best slopes that can be enjoyed by people of all age groups and experience levels, welcoming visitors from all around the world. The remainder of this article will discuss some of the most famous ski resorts, attracting attention from all corners of the world, and allowing everyone to partake in and enjoy winter sports.
Canada experiences a lot of snowfall, which is the reason why the country has bloomed with different ski resorts covering each province and territory. Whether you are in the island province of Newfoundland and Labrador, or the icy prairie land of Alberta, you will be able to find a top quality ski resort that has a wide range of different hills to choose from. Alberta is home to Lake Louise Ski Resort, a resort that offers a great experience to skiers of all ages and levels of experience. It offers a distinct setting in the heart of Banff's National Park, with 12 meters/40 feet of powdery snow that makes skiing easy and enjoyable. Lake Louise gives you inspirational settings and the beautiful backdrop of the Rocky Mountains to enjoy while you ski, creating a unique and serene skiing experience for you and your family or friends. Anyone looking for an outstanding Alberta winter ski vacation will find what they are looking for at Lake Louise.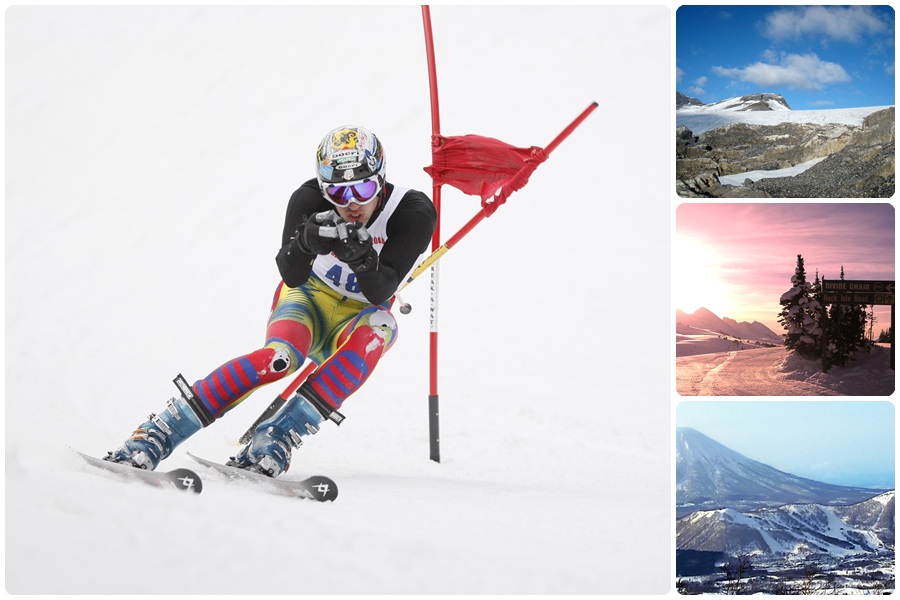 Moving down to South America where the climate begins to warm up and get more humid, there are still plenty of ski resorts offered in the cooler mountain ranges. Portillo in Chile has been rated as the best ski resort in South America, giving a unique experience deep in the Andes mountains. This is a ski resort that will really bring you out into nature and into an area that doesn't normally see a lot of people. The ski resort is located 160 kilometers away from Chile's capital city, Santiago, and has millions of visitors from all around the world each year. It offers wonderful trails, as well as a long list of accommodations to make your stay more enjoyable and comfortable. Portillo does everything to keep their visitors at the top of their priority list, ensuring their happiness and promoting pleasant experiences.
Moving over to Europe, the different countries of the continent have plenty of unique and individual skiing experiences to offer, especially those countries that are home to the Alps, including France, Sweden and Switzerland, which are all home to famous ski resorts. France is home to Val Thorens Ski Resort, one that is traveled to every year by millions of different tourists and skiing enthusiasts. People travel from all different areas of the world just to get a taste of France's humble and yet extravagant offer of varying slopes and hills. Val Thorens is located in high mountain range where the weather is cold but the skiing experience is supreme. It is an experience that cannot be matched anywhere else in France and the ski resort was created with their visitors in mind, because the paths and routes offered have beautiful scenery and very smooth runs so that you do not need to worry about low quality snow or ice. The powdery snow will be perfect to ski through and once you are done on the slopes, you can enjoy one of Val Thorens' many restaurants and cafes where they offer delicious French food and hot chocolate.
The LAAX Ski Resort in Switzerland's range of Alp Mountains gives beautiful slopes and winding paths of fluffy white snow, ensuring you will have an amazing experience when you visit their resort. The backdrop of Switzerland shows the beautiful Alp Mountains towering towards the sky, giving you a beautiful view as you ski and allowing you to breathe in cool and crisp air. LAAX includes 235 km pistes with 5 snow-secure valley runes, 29 different facilities, and 4 snow parks with the largest half pipe. The sun often shines on this part of Europe, giving a snowy and sunny experience all in one. This high in Switzerland's beautiful mountain range, skiers are guaranteed to have a good time and to never forget the experience that LAAX provides for their visitors and guests. The number of beautiful and adrenaline producing slopes are so incredible that many do not want to leave LAAX, and end up staying for a few days.
Niseko Ski Resort is located in the heart of Japan, offering over 20 different slopes with varying experience levels. This ensures that both beginners and experts can choose from a wide range of different ski slopes, getting a great view of Japan's serene and picturesque scenery. The Northern part of Japan is home to steep hills and abundant snow fall, giving skiers the opportunity to ski through fluffy snow and have a smooth ride. The Niseko Ski Resort offers luxurious and welcoming hotels, as well as many restaurants and other facilities to enjoy during your stay. Niseko will ensure that you will have a heightened and enjoyable skiing experience, with over 10 different slopes to choose from and friendly employees that will make you feel at home.
With hundreds of ski resorts covering the globe, it's not hard to find a famous ski resort that will help you enjoy these fun and exciting winter sports. A reputable and praiseworthy ski resort is one that keeps their visitors happy and comfortable, ensuring that they have the best skiing experience possible, and the resorts discussed above definitely succeed in that.