Famous Christmas markets around the world
Christmas, to give it a broad definition - is the annual celebration of the birth of Jesus Christ. Of course these days it is much more than that, with it being a holiday to spend time with your loved ones, to eat, drink & be merry and to exchange gifts, Christmas means different things to different people but it is a celebration that is enjoyed by all, no matter who they are.
Christmas is not just about the one day anymore, but the whole month of December, with a variety of traditions now a part of every families life. There is putting the Christmas tree up in early December to hanging the stocking up on Christmas Eve. There is also the slightly more modern traditions of hitting the stores to buy as many gifts & food as possible. Every family and group has their own traditions - some open their presents on Christmas Eve while some don't buy presents at all.
One of the biggest traditions however is the idea of Christmas markets - these are very popular, with almost every major city (and some minor ones) having one, they usually consist of stalls selling all kinds of Christmas memorabilia and a lot of mulled wine! But some set themselves apart with their history, activities, how great they look and a number of other things, here are 6 of the best and most unique you will find on Earth.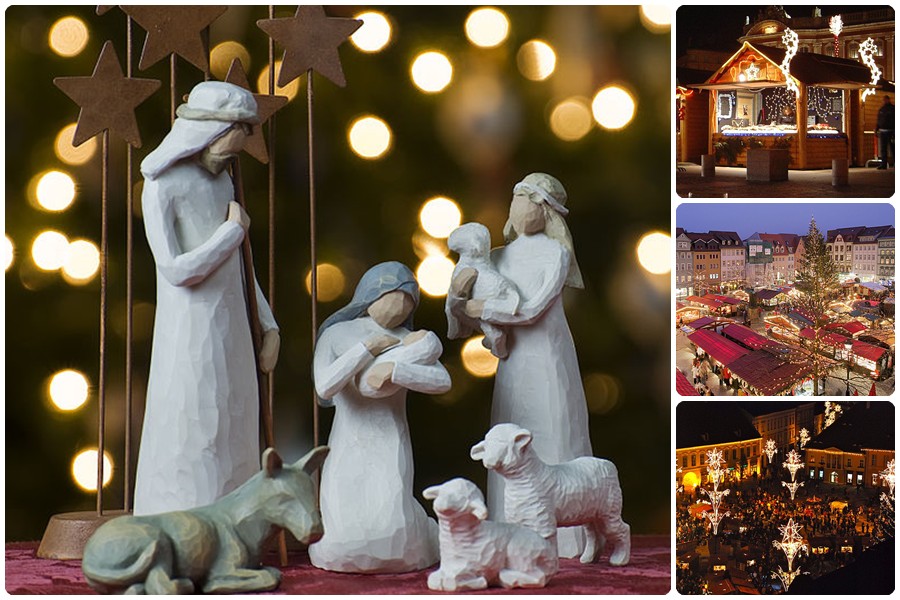 Tivoli Gardens, Copenhagen, Denmark
Tivoli Gardens in Copenhagen, Denmark is where I'm going to start this tour of Christmas markets. Tivoli is a unique place, it is part Christmas market, part Theme Park, part gardens. It is one of the most spectacular places you will ever visit, there is a Christmas tree every few yards and all the buildings and rides are lit up with Christmas lights. If there was an award for best Christmas lights anywhere in the world, there is no doubt that Tivoli would win it. There are hundreds of Christmas stalls selling every type of Christmas trinket imaginable and for the thrill seekers there are roller coasters and other rides including some specific Christmas themed rides. There is also an hourly Christmas illuminations on the main lake with water, lasers and a light show set to songs from the Nutcracker. Tivoli Gardens is probably the most complete Christmas market experience you will find in the world. Millions of people visit every year so it will be busy but it is definitely worth it.
Georgetown Christmas Market, Colorado, USA
Crossing the pond now to something a little more low key but a lot more traditional. In the mountain town of Georgetown, Colorado is their historic Christmas market. They go for the old-fashioned style, with carolers in Victorian costumes, horse drawn carriages down the main street, sparkling lights, roasted chestnuts and best of all - you are almost guaranteed snow on the ground. If you are looking for a traditional Christmas market then it doesn't get much better than this.
Toronto Christmas Market, Canada
Heading north across the border we come to Toronto, with a fantastic Christmas market. What makes it so fantastic? The sheer volume of things to do. You have the traditional market stalls selling a huge range of products but there are also a lot of other activities to keep you occupied. There is a ferris wheel so you can get great views out over the Christmas market. There is a reindeer zoo with real reindeer which will light up your children's faces (and probably some adult ones too). If you are looking for a more adult setting then Toronto has you covered too, they have a fantastic set of beer gardens, serving beer and of course - mulled wine.
Tallinn Christmas Market, Estonia
Returning to Europe now, specifically the Baltics and Estonia - it may not be the place that first comes to mind when you think Christmas markets, but there is something extra special here. It is held on at Tallinn Town Square which was the site of the very first Christmas Tree, meaning you are not only getting the market - but also some history. The tree is not the only reason to head to Estonia though, you are unlikely to find a more fairy tale setting. The snow topped houses around central Tallinn look fantastic, and that mixed with the lights and stalls you won't find a more romantic fantastic setting for a Christmas market.
Christkindlesmarkt, Nuremberg, Germany
One of the oldest markets in the world, founded all the way back in the 1500's - also one of the most famous in the world. Set in central square in the old town, with the majestic cathedral in the background this is one of the best looking Christmas markets you are ever likely to encounter and one of the biggest, nearly 200 stalls - selling all kinds of different items. If you are looking for a market steeped in history, in the country that is probably regarded as the home of Christmas markets. Over 2 million people visit the Christkindlesmarkt for traditional German food & gifts and if you were to visit just one German market then you should make it this one.
Valkenburg, Netherlands
Moving just across the border into the Netherlands we come to what is probably the most unique on the list - while it does have all the things you would expect from a normal market, stalls selling Christmas gifts, mulled wine etc there is something a little different - the entire market is in caves. As you wander around the caves you will encounter stalls selling all kinds of merchandise and the caves themselves are decked out with Christmas decorations and lights for a truly magical experience. The caves aren't the end of the story however as the village itself is decked out in Christmas decor too - and there some great activities out there such as a Christmas parade with Santa.
Whichever Christmas market you choose you are bound to have a great time, whether you choose traditional or modern and if you pick any of the markets above you are going to have a magical experience that you won't soon forget. Christmas markets unite the world with every continent having their own version, so visit a Christmas market today and experience this great worldwide tradition.